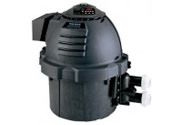 Sta-Rite Pool Heaters
The Sta-Rite Max-E-Therm inground pool heater from Pentair/Sta-Rite is one of the most durable and long lasting pool heaters on the market today. Built with PMG burner technology the Max-E-Therm requires no outdoor draft hood and all HD (Heavy Duty) models come with cupro-nickle heat exchangers that stand up to the harshest of applications like heavy use, high flow and low ph levels.

Shop Sta-Rite Pool Heater Parts Here

View/Download Owners Manual
Compare
You have no items to compare.